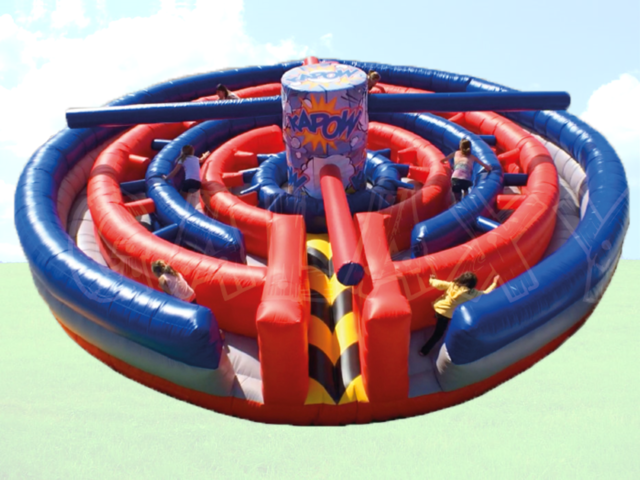 KAPOW
Setup Area: 35' x 35' x 14'
Outlets: 2
Age Group: 8 to Adult
Attendants: 1




Minimum 3 hour rental.
3 Hours $1,300.
$300 each additional hour.
Includes an Operator.
KAPOW is a

m

ulti-player game

where participants race against each other through a circular inflatable obstacle course.
KAPOW's unique elements are the two sets of rotating boom arms. One arm spins in a clockwise direction designed to come into contact with the player at knee/thigh level, while the second arm is spinning counter clockwise. The second arm is higher and would be around the chest area. These boom arms are a 14" diameter foam cylinder. Each player will have their own lane, until the final straight where both players race to the finish line.


Rent the Kapow Inflatable Interactive Action Game for your next event in Central California. The Kapow Action Game, Kapow Inflatable game, kapow interactive, Kapow Wipeout game, Kapow Ninja Warrior Challenge, Kapow Multi Player Action Game is

Perfect Team Building Game for Corporate Groups, Corporate Events, Festivals, Company Picnics, Grad Night, School Function, Church Event, Sober Grad, Graduation Party, Fundraiser, Large Scale Events, School Carnivals, Jr High, High School, Fresno, Ca, Competitive Events that include obstacle courses, Private Events, and Birthday Parties, in Fresno, CA, Clovis, Madera, Visalia, Sanger.
KAPOW
Give your guests what they want with Fresno Fun Jump's multi-player adrenaline pumping interactive action game rentals built with quality and safety in mind.

How it's played

- Two participants set off at the same time at separate
entrances to the game.

- They will then run through set lanes that have inflatable
obstacles in them.

- These lanes are based on concentric circles, so
participants will have to `turn back on themselves three
times.

- The game is a race, so at the end, both participants will
run down the same lane to the finish line.
Kapow | Kapow Action Game Rental | Kapow Interactive Game Rental | Kapow Inflatable Rental | Interactive Inflatable Rental in Fresno | Inflatable Rental Fresno | Kapow Fresno | Kapow Clovis | Kapow Inflatable Rental Visalia | Kapow Rental in California | Central California | Central Valley | Fresno County | Event Rental | Party Rental | Schools | Church | Festivals | Corporate | Company Picnic | Youth Group | City Event | Community Event | Fresno Fun Jump | Bounce House Rentals | Interactive Inflatables