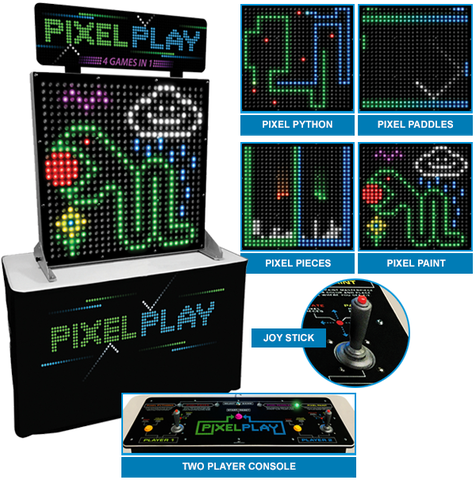 Pixel Play
Pixel Play brings 4 retro feel games to life on a giant 676 LED light panel. Great 2-player games for hours of entertainment for any occasion.Using the Game Select button, choose your desired game, and when ready, hit the start button. Each player will use their own controls.
PIXEL PYTHON
Feed your hungry Pixel Python to grow larger, but do not eat your tail. Steer clear of the walls and your opponent.
PIXEL PIECES
While random Pixel Pieces are falling, try to rotate and shift the blocks into complete horizontal lines. The more lines you complete at once, the higher the score!
PIXEL PADDLES
Move your Pixel Paddle up/down to redirect the ball past your opponent. The first person to score 3 points wins!
PIXEL PAINT
Create a Pixel Paint masterpiece. Select your color and use the joystick button to place the pixel wherever you see fit.