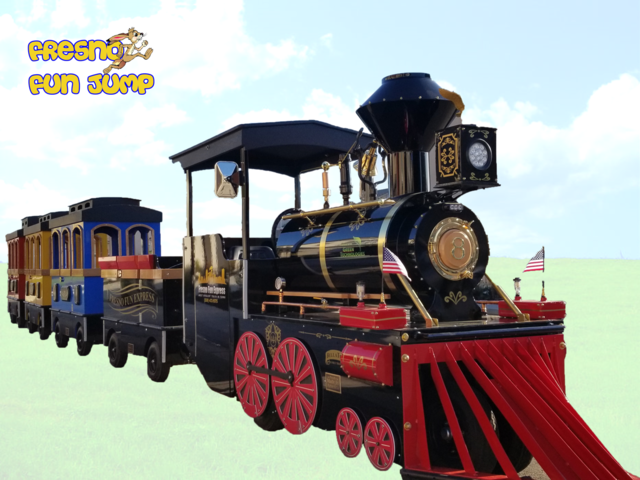 Trackless Train
Actual Size: 38 ft. Long
Setup Area: 80' x 120' flat surface.
Age Group: Kids to Adult
Attendants: Includes 1 Attendant




Minimum 2 Hours for Private Events & Residential.
Minimum 3 Hours for Corporate, Schools, or Non Profit.

INCLUDES 1 TRAIN ENGINEER / OPERATOR

2 Hour Trackless Train Rides $800
3 Hour Trackless Train Rides $950
4 Hour
Trackless Train Rides
$1,100
ALL ABOARD THE FRESNO FUN EXPRESS!
Want to add a WOW factor to your next event? Book our authentic looking train. This is NOT your typical 55 gallon drum strapped to a lawn tractor pulling a wagon. Fresno Fun Jump's Trackless Train Rental is the real thing!
It is all in the detail and authenticity!
State of the art EV (Electric Vehicle) technologies with zero emissions. Can go indoor malls, warehouses, etc.. or outdoors. Our electric trackless train is simply the Best trackless train available. Perfect for Festivals, Company Picnics, Holiday Parties, Birthday Parties, Parades, Day Camps, Corporate Events, Block Parties, Day Care Centers, Schools, Carnivals, Fundraisers, Charities, Non Profits, and Community Events. Fun for all ages. Train Rides & Trackless Train rentals in Fresno, CA.
Trackless Train rental Fresno, Trackless Train Rides, Electric Train, Mall Train, Trackless Train Fresno, Trackless Train Clovis, Train Rides, Trackless Train Rides Clovis, Trackless Train Rental in Central California, Train Rides in Fresno California. Holiday Train Rides, Holiday Party Planning, Festival Train Rides, Parade Train Rides, Polar Express, Candy Cane Express, Candy Cane Lane in Fresno, Fresno Fun Express.

Train Rides | Train Rides Fresno | Train Rental | Trackless Train | Train Rides Clovis | Fresno Fun Express | Central Valley | Central California | California | Trackless Train Rides | Corporate Events in Fresno | Event Planner Fresno | Event Planner Clovis | City of Fresno | City of Clovis